CUSTOMER REVIEWS
Customer Reviews
Lovely set with rose scent. Soft silicone inside.
All as in the description. The smell is pleasant. The skin becomes softer.
Delivery was 3 weeks. I liked gloves and socks myself. Gloves on the size of the hand s a bit too big in the palm of your hand, in the area of your fingers about a centimeter freely (but my fingers are short), a photo of my hand for informative. Socks at 35 r well, there is a free place about a centimeter in the area of the middle fingers and little finger. About the effect so far i can not say much, i wear a few days. With the composition, which is impregnated with gloves, the skin silky to the touch becomes, after washing hands with soap, the effect disappears. But in general, i chew what dry skin, dermatitis, often crack the skin on the folds, so far i can only say that, at least, from this impregnation of the hand does not pinch in contrast to any cosmetic creams, and this is already a plus. After washing the impregnation i'll try to use them together with coconut oil, i think it will be good. Wearing gloves at home or wearing at night is not comfortable, so i put them on when walking with a child on the street, like ordinary knitted gloves.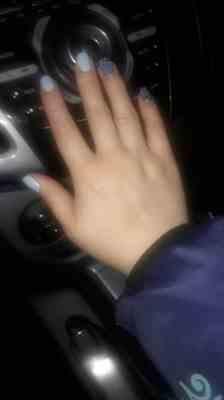 Shipping Info
We have put a lot of focus on making sure the items get delivered to our customers as quickly as possible. You will receive your order in 7-21 business days from the date that it is placed.
◆ We cover all tax and duty for your purchases, if you has been charged for tax or duty, please email us the invoice for refund.
◆ Delivery Time = 3 - 4 business days processing time + Shipping time. You could get the shipping option/carrier with shipping rate and delivery time when you check out.
◆ If you selected free shipping, please allow sufficient time with free shipping option if you need your order for events on specific date.
◆ Tracking link of your shipment will be sent to you via email once your order has been shipped.
◆ You could cancel your order before we ship out your order.
Although we use all reasonable means to ensure that your order is delivered within a specified time, we cannot accept any responsibility for late deliveries due to circumstances outside of our control. We will do our best to inform you of any unexpected delay.
Free shipping and regular amil do not guarantee delivery time and it is subjected to delay due to customs clearance especially during holiday.
WHAT IS ITEM PROCESSING TIME
The Item Processing Time is the time from receiving your order to physically dispatching your order. After receiving your order, we conduct rigorous Quality Control checks and tests in order to ensure the product's quality prior to shipment to meet your satisfaction. This can involve detailed in-house checks: material quality, zippers, seams, embellishments and motifs, interiors, lining, etc. The total processing time varies depending on the complexity, design and size of the specific product or article. Larger orders will naturally take longer. The average processing time is approximately 4 business days; however, please note that the processing time can also be affected by the stock status of individual items, the time of the year, national holidays, etc. If your order includes very popular items that are experiencing stock availability issues, then the order can take 5-10 business days to process and dispatch. We apologize in advance for any inconvenience caused by these delays and thank you for your patience.